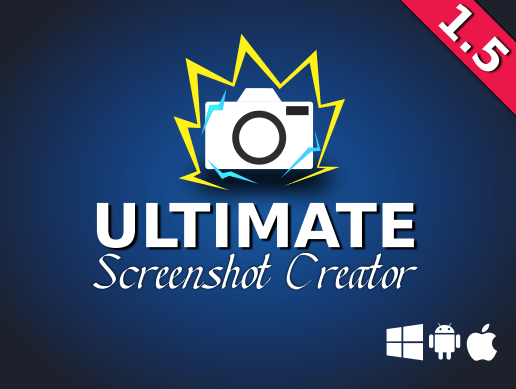 Ultimate Screenshot Creator 1.5
For Unity 5.0 to 2018.1
Forum – Documentation – Support
Ultimate Screenshot Creator is the most complete and customizable screenshot creator available on the asset store.
It is the ideal tool to create professional marketing and PR assets, wallpapers, mobile store screenshots, and more.
It works on Editor and on all platforms, ideal to allow your users to take screenshots within your application with custom camera, resolutions, backgrounds, watermarks, and more, perfect for AR apps.
Main Features
Perfectly works with Unity 4.6 and later UI system.

(NEW)

Take sreenshots in-game on all platforms.

(NEW)

Export your screenshots to the Android Gallery.

(NEW)

Export your screenshots to the iOS Camera Roll.
Capture multiple resolution screenshots in one click.

(NEW)

Display a validation UI to the user to save the screenshot or discard it.
Customizable set of cameras with custom rendering properties, such as culling mask, clear mode, clear color and field of view.
Customizable overlay system to automatically include your game logo and more, to easily create marketing and PR assets, or wallpapers.
In-game preview with photography guides to better frame your screenshots.
Burst mode not to miss the best moments, or to be used as input of a GIF creator software.
Ultra HD screenshots.

(NEW)

Capture only a sub-part of the screen.
Quality
Clean source code included.
Detailed documentation.
Reactive and efficient customer support.
More Features
(NEW)

Use the Screenshot Window to easily take screenshots in editor.

(NEW)

Export the screenshots to platforms Picture Folder.
Powerful naming system with symbols to customize the export folder and file names.
Easily export screenshots for all Stores (Amazon, Google Play, App Store, Windows Store, etc.)
Use the delegates to call your code during the capture process.
Export to PNG and JPG.

(NEW)

Robust external storage management for Android.
Transparent backgrounds.
Landscape and portrait mode.
Screenshot preview, with photography guides.
Resolution scaling.
Customizable shot sound.
Customizable hotkeys.
Customizable export folder.
Align cameras to view utils.
Time management utils.
Automatically increment file names or override existing files.
Compatible with the new Post Process Stack.

(NEW)

Support multi-display settings.

(NEW)

Support of WebGL.
Copyright © 2015-2019 - Arnaud Emilien. Wild Mage Games is a trademark property of Arnaud Emilien. All rights reserved.