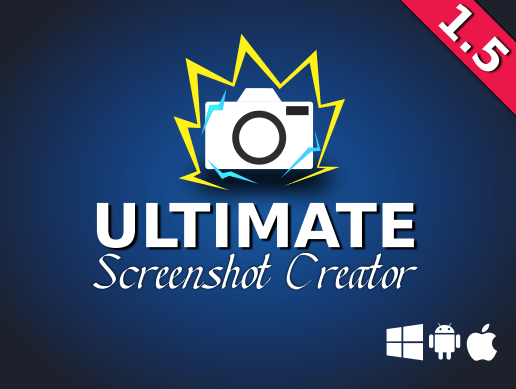 Ultimate Screenshot Creator 1.4
For Unity 4.6 to 2017.3
Forum – Documentation – Support
Ultimate Screenshot Creator is the most complete and customizable screenshot creator available on the asset store. It is the ideal tool to create professional marketing and PR assets, wallpapers, mobile store screenshots, and more. It works on Editor and on
all platforms
, ideal to allow your users to take screenshots within your application with custom camera, resolutions, backgrounds, watermarks, and more. It also automatically adds your screenshots on iOS and Android galleries.
---
Features
Perfectly works with Unity 4.6 and later UI system.

(NEW)

Take sreenshots in-game on all platforms.

(NEW)

Export your screenshots to the Android Gallery.

(NEW)

Export your screenshots to the iOS Camera Roll.
Capture multiple resolution screenshots in one click.
Customizable set of cameras with custom rendering properties, such as culling mask, clear mode, clear color and field of view.
Customizable overlay system to automatically include your game logo and more, to easily create marketing and PR assets, or wallpapers.
In-game preview with photography guides to better frame your screenshots.
Burst mode not to miss the best moments, or to be used as input of a GIF creator software.
Ultra HD screenshots.

(NEW)

Capture only a sub-part of the screen.
Powerful naming system with symbols to customize the export folder and file names.
Easily export screenshots for all Stores (Amazon, Google Play, App Store, Windows Store, etc.)
Use the delegates to call your code during the capture process.
Export to PNG and JPG.

(NEW)

Export the screenshots to platforms Picture Folder.

(NEW)

Robust external storage management for Android.
Transparent backgrounds.
Landscape and portrait mode.
Screenshot preview, with photography guides.
Resolution scaling.
Customizable shot sound.
Customizable hotkeys.
Customizable export folder.
Align cameras to view utils.
Time management utils.
Automatically increment file names or override existing files.
Compatible with the new Post Process Stack.

(NEW)

Support multi-display settings.

(NEW)

Support of WebGL.
---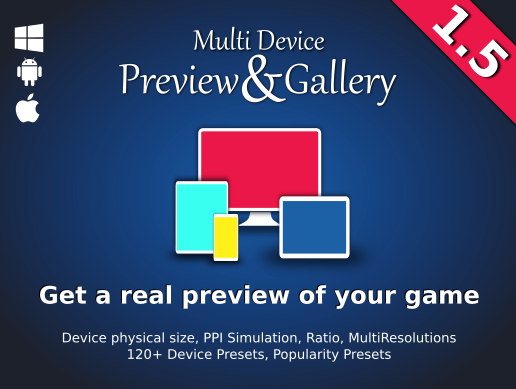 Multi Device Preview & Gallery 1.4
For Unity 4.6 to 2017.3
Forum – Documentation – Support
Multi Device Preview & Gallery gives you an
accurate preview
of your game for
multiple devices, resolutions, and aspects, at a glance
. Preview at the
device's physical size
to check that your game content and UI are properly scaled, and use the resolutions and ratios previews to see how your game looks like on several configurations. This is the very
essential tool
for developers making applications for multi resolution devices, like mobile developers. No more bad surprises, no more tedious checks,
no need to buy dozens of devices
. This asset will save you a lot of time, which you can use to focus on your game!
Included: all features of Ultimate Screenshot Creator.
---
Features
Use the Gallery to preview your game at several resolutions, aspects, and devices (ppi simulation) at a glance.
Edit your game and GUI and preview your modifications for all selected targets.

(NEW)

Play your game and check that everything looks fine on any device with the Live Preview.
Preview at the phone physical sizes with the PPI simulation, to better scale your GUI content. No more bad surprises, unclickable buttons and unreadable texts, what you see is what you get!
More than 120 phone and tablet presets, including the most popular smartphones on the market: Apple, Samsung, Google, HTC, etc.
Use the Mobile, Standalone and PC popularity presets, to be sure that your game works perfectly with the most popular resolutions of your target platforms.
More than 50 resolution presets sorted by ratios to test all the cases.
Easily export screenshots for all Stores (Amazon, Google Play, App Store, Windows Store, etc.)
Easily add your custom resolutions and devices.
---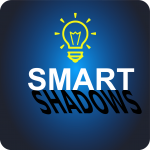 Smart Shadows 1.0
For Unity 5.5 to 2017.2
Forum – Documentation – Support
Smart Shadows
is a dynamic shadow manager that
automatically and smoothly enables and disables dynamic shadows
when you move on the scene, depending on the desired maximum simultaneous shadows, the maximum shadow activation distance, and the pertinence of the shadows,
improving a lot rendering performances
. The algorithm chooses which shadows to enable based on a
light priority algorithm
, which offers a lot of customization to
match your scene constraints
. This allows to have a lot of dynamic shadows in the scene by automatically enabling only pertinent shadows and disabling others. With this tool, you will
get the best of dynamic shadows
, without the performance issues.
---
Features
With the Maximum Simultaneous Shadows, lights are sorted by pertinence depending on the player position and the custom light settings, and only the highest priority shadows are activated.
Maximum Light Influence Distance to activate only the shadows within a given range.
Smooth Fade In and Out Transitions, hardly noticeable by the player, even more when focused on playing.
Set the Light Shadow Importance, and custom Settings, to better control which lights are activated and what happens when their shadow is disabled, to better match your scene constraints.
Use the Range and Intensity Reduction to reduce the light illumination when its shadow is disabled, to reduce inconsistent scene lighting.
Enable the Shadow Resolution Reduction to reduce automatically the resolution of the lowest priority shadows, to improve the computational time.
Use the Quality Level Settings to adapt the shadow constraints to the device performances.
Included Animation Scripts for fire, flickering and periodic lights.
---